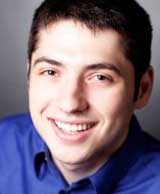 "Peter and David have consistently been excellent partners with incredible integrity. These are traits which can only be demonstrated over several years of a close working relationship. When our company faced rough patches in our growth cycle, as any early-stage venture will, they were always the first to offer help and provide it fairly. I can safely say that MarketRealist would not be an incredible fast-growing success story without Richmond Global. They are visionaries and have consistently provided excellent advice, however, they have also always been strong supporters of our management team and company vision. The partners are also incredibly generous with their network. In my experience getting to know a variety of VC investors, an entrepreneur cannot ask for a better investment partner. They are hands-down the best venture investors in the industry and I believe are the top up-and-coming firm disrupting the global venture capital industry. As an entrepreneur, my advise is to select Richmond Global over other firms even irrespective of price or historical reputation. "
— Michael Rodov, Founder and CEO
---
Market Realist is a leading provider of institutional-quality investment research and analytics, aiming to provide investors with the tools they need to make more knowledgeable investment decisions.